---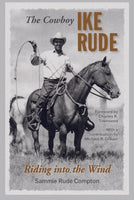 This is a PRESALE on the new book by Sammie Rude Compton, titled "Riding into the Wind". Expected delivery date is the middle of December. You will receive an email confirmation when your book ships to you. 
The Cowboy Ike Rude
Riding into the Wind
Sammie Rude Compton
Foreword by Charles R. Townsend
Contribution by Michael R. Grauer

Born in 1894 in Mangum, a community in what was at the
time Oklahoma Territory, Ike Rude would go on to have one of
the most remarkable rodeo careers ever recorded. His storied
life would include a performance for the Queen of England;
acquaintances with the likes of Will Rogers, Gene Autrey, and
Slim Pickens; multiple world titles; and the near-miss of a
championship bid in roping—at age 77.
Along the way, he worked for some of the most famous ranches
in the west, such as Texas' JA and Matador ranches and the
Chiricahua and Double Circle ranches in Arizona. Rude's story
also includes the many outstanding horses he rode and trained,
like the famed Baldy, considered perhaps the greatest roping
horse of all time. " e career of Ike Rude—and that of several of
his horses—is commemorated in nine museums, including the
National Cowboy and Western Heritage Museum in Oklahoma
City and the Pro Rodeo Hall of Fame and Museum of the
American Cowboy in Colorado Springs.
Lovingly woven from archival and family records as well as
interviews with Rude by his daughter, Sammie Rude Compton,
and closing with an essay on Rude and his rodeo and ranching
context by Michael R. Grauer, McCasland Curator of Cowboy
Collections and Western Art at the National Cowboy and Western
Heritage Museum, this biography of one of the formative figures
in the sport offers valuable glimpses into the development of
rodeo and cowboy culture. The Cowboy Ike Rude: Riding into the
Wind is sure to be a favorite of anyone interested in the colorful
lives of working cowboys and rodeo performers in the early
twentieth century.
Written by: SAMMIE RUDE COMPTON, daughter of world champion roping
legend Ike Rude, crisscrossed the United States with her family while
her father competed in rodeos. Now retired from training and showing
quarter horses, she lives in Purcell, Oklahoma.